Allowed file exttensions: jpeg, jpg, png, gif, pjpeg and x-png.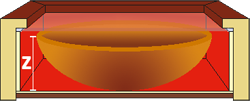 Volume objects, shadow box framing - Check the 3d option if the subject to be framed is an object with volume. If you choose this option, you must specify the height in centimeters of the object, ie "Z" and then click on Ok button to submit the indicated height. By doing so, the program will filter the mouldings, showing only those with enough rebate height to accommodate the object. For questions about how to attach the object to the backboard, ask our consultants.
To delete an image, click the delete button×Before deleting an image, consider if is part of a budget and the order includes printing. Wait for the deliver before deleting this image.
To print an image, we will need it to have enough definition. If we consider the definition insufficient, we will contact you.
Storage limit - You can upload and keep in your account up to 20 images.
Uploaded pictures by unregistered users will be automatically removed upon session completion. If you want to keep the Pictures for later framing, register here.